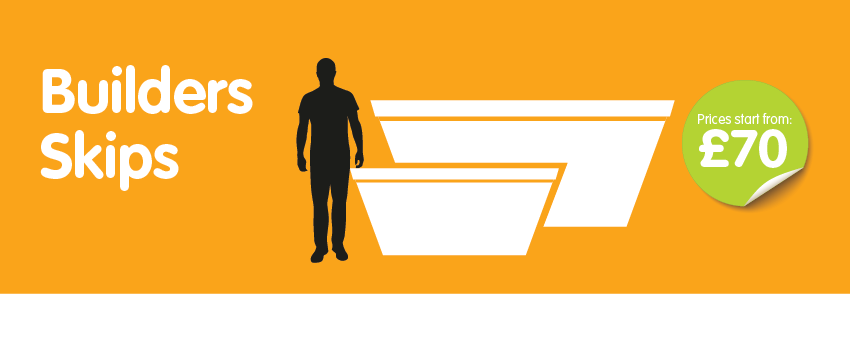 A Guide To Builder's Skips (6 Yard to 8 Yard Skips)
6th Sep, 2018
Builder's skips are amongst the many sizes of skip we offer here at Skip Hire Network, and amongst the most popular with domestic and commercial clients alike. Below, we've put together a quick guide full of all the information you could ever want to know about builder's skips. Here's what we'll be covering:
What is a builder's skip?
Essentially, builder's skip is a catch-all term used to refer to our 6 yard and 8 yard skip sizes here at Skip Hire Network. Now, it can be a fairly loose term within the industry, so you might find that other skip hire companies also use it to encompass slightly smaller or larger sizes. On the whole, though, it can reliably be said to include the 6 yard to 8 yard skips at the very least.
Builder's skips are highly versatile. Commercial and domestic skip hire customers alike find them spacious enough for the vast majority of jobs, but small enough to be easily accommodated on private land. This last bit is important, as it can help save you money on skip hire permits!
Quick tip on hiring a builder's skip:
If you're in a rush (as many people are when they're trying to hire a skip for a day), it sometimes be easy to get tripped up on the terminology for builder's skips. An especially important thing to remember is that 6 yard and 8 yard are both terms that refer to the skip's capacity, not its length. Before you hire a builder's skip, take an extra second to be clear on what its exact measurements are. Otherwise, you may well find yourself having to hire another!

How much does a builder's skip cost?
Because our builder's skip accounts for several sizes, the price for builder's skips can range accordingly. The price for hiring a 6 yard skip starts from around £90, while 8 yard skips starts from about £200.
'Why so much difference?' you may be asking. Well, the price of skip hire can vary dramatically depending on a number of factors. You can find full details on this on our skip hire prices page, but a few of the biggest influencers are:
Where you live in the UK (some locations are more expensive than others)
How long you're hiring the skip for
Who you're hiring the skip from
Whether or not you need a skip hire permit
Make sure to find out whether the price they're quoting you includes the VAT on a skip. Not every company makes that immediately obvious, which can sometimes mean a nasty surprise later on! If you come across an exceptionally low quote, it's worth asking if it's including the VAT, as not every company accounts for this in their initial price.
How long can I hire a builder's skip for?
Our typical hire period is around 14 days here at Skip Hire Network. However, not all skip hire companies offer the same, so don't take it for granted and hire your skip without checking first! In some cases, we can also extend this period if you need us to. Just make sure to let us know plenty of time in advance!
How big is a builder's skip?
You can find out the measurements of a builder's skip below. We've accounted for both 6 yard and 8 yard skip sizes, and just for good measure (pun mercilessly intended) we've included the metric and imperial dimensions too.
Measurements for a 6 yard builder's skip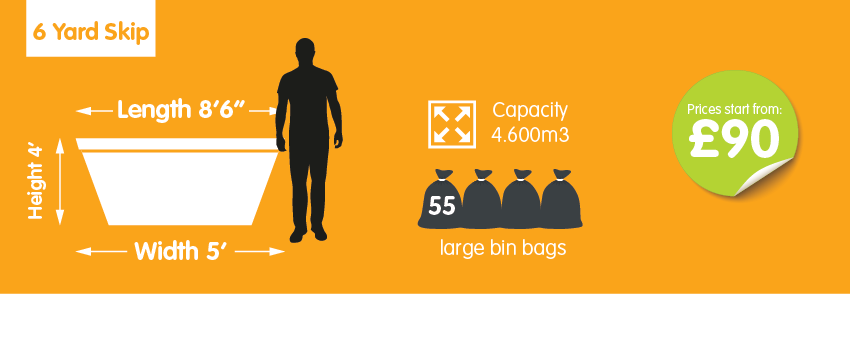 | | | | | |
| --- | --- | --- | --- | --- |
| | Width | Height | Length | Capacity |
| Imperial | 5' | 4' | 8'6" | 6 yrds3 |
| Metric | 1.52m | 1.22m | 2.6m | 4.6m3 |
Measurements for an 8 yard builder's skip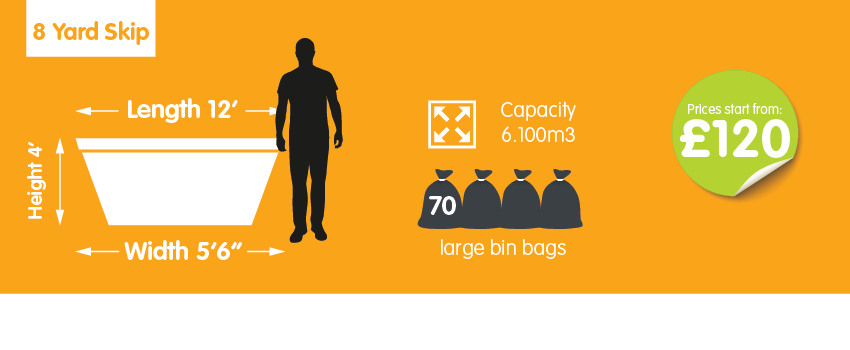 | | | | | |
| --- | --- | --- | --- | --- |
| | Width | Height | Length | Capacity |
| Imperial | 5'6" | 4' | 12' | 8 yrds3 |
| Metric | 1.68m | 1.22m | 3.66m | 6.1m3 |
How much will a builder's skip hold?
Even the slightly smaller builder's skips are well known for their excellent capacity, which is a big part of the reason why they're so popular with domestic, commercial and industrial clients alike.
As a general guideline:
6 yard skips can hold between 55 to 60 large black bins bags of waste, or roughly 19 wheelie bins' worth.
8 yard skips can hold between 70 to 80 large black bin bags of waste, or roughly 25 wheelie bins' worth.
Obviously it's difficult to give a more exact answer, as it really depends on what sort of waste you plan to fill your skip with. Large bulky waste like bricks, hard core or masonry is going to fill it faster than smaller items like domestic or garden waste.
What jobs should a builder's skip be used for?
As we've touched on above, builders skips are amongst the most popular sizes of skip in the whole of the UK. They strike that perfect 'Goldilocks' balance between being small enough to be placed on most private land without issue, but also spacious enough to accommodate all sorts of waste, from lightweight and domestic waste to heavy and commercial waste.
Here's a brief summary of the sorts of jobs that our customers find them most useful for:
Domestic
Small home renovation jobs
Bulky waste and small gardening jobs
Large domestic refurbishments or complete home clearouts
Common maintenance
Garden clearance or refurbishments
Home or garage clearouts
Shed or storage clearance
Industrial or Commercial
Digging foundations
General landscaping
Removing an old driveway
Wall replacement or removal
Kitchen or bathroom refits
Bathroom upgrades
Bedroom redesigns
Conservatory removal
Office and retail clearouts

What can I put into a builder's skip?
Builder's skips can be used for almost any type of waste, as long as it's legal to dispose of in a skip. You can safely dispose of the following items in one of our skips:
Garden waste
Foliage
Tree branches
Soil (as long as it's not contaminated with asbestos or oil)
Wood
Building waste
Bricks
Building rubble
Hard core
Metal
Plastic
Household waste
Domestic waste like food and packaging
Furniture
Furnishings
Fittings (non electrical)
Gas cookers
Packaging (like cardboard, plastics, polystyrene)
Solidified paint
To find out what you can't put in one of our skips, you can read our blog post about what can't go in a skip. As a general rule, common hazardous waste is a no-go, which means stuff like asbestos, liquid paint, plasterboard and chemicals will have to be disposed of elsewhere. Oh, and in case you're wondering, you're not allowed to put your car in one.
Will I need a skip hire permit for a builder's skip?
Often, no. That's the beauty of them! However, it's not a blanket yes-no answer – you'll need to find out for yourself. Whether or not you'll need a skip hire permit will depend on where you're planning to put your skip. In short, if you've got room for it on your own private land – such as your front garden or driveway – then you won't need a skip hire permit. On the other hand, if you need to put it on council land such as a public road or a parking suspension zone, you'll need to contact your local council for a permit. You can find out more information about permits here!
Where can I hire a builder's skip?
Right here from us, at Skip Hire Network! It's easy – we've stripped back our processes to the bare bones, so that it's never been simpler and faster to hire your skip. Just type in your postcode and phone number into the fields on our homepage, and we'll send you your instant skip hire quote. So then… ready to get started?