A Queen's Award-winning company!
Skip Hire Network is a nationwide Community Dotcom scheme created and run by commercial recycler Recycling Lives, in addition Skip Hire Network Helps sustain the Recycling Lives social welfare charity.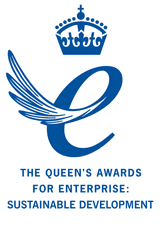 Recycling Lives is a two-time winner of the coveted Queen's Award for Enterprise in Sustainable Development, which recognises organisations that develop commercially successful products, services and approaches to management with major benefits for the environment, society and the wider economy.
Recycling Lives' first Queen's Award: April, 2010
Recycling Lives was one of only 10 UK organisations to win the Queen's Award for Enterprise in Sustainable Development in 2010.
The organisation was recognised for its commitment to creating a replicable and self-sustaining social business model, which not only prioritises positive social and environmental impact but actively uses this to boost the financial viability of its commercial operations.
Find out more about Recycling Lives 2010 Queen's Award
Recycling Lives' second Queen's Award: April, 2014
In 2014, Recycling Lives was honoured by the Queen's Award Office for the second time – this time, for the development of a cutting edge Flat Panel Display recycling centre, and of an employment programme designed to aid prisoners at HMP Kirkham after release.
The organisation's growing network of Community Dotcom services like Scrap Car Network also won praise from the panel.
Read more about our 2014 Queen's Award
The services Recycling Lives offers
Recycling Lives offers a range of affordable, environmentally-friendly waste management and recycling services to customers all over the UK.
The organisation also runs a network of Community Dotcom schemes like Skip Hire Network.
These UK-wide, charity-led schemes enable businesses and householders to book cost-effective, eco-friendly collection, reuse and recycling services that benefit charities across the country:
BulkyWaste.org: arrange collection and recycling of items too big for your bin
FurnitureDonationNetwork.org: donate good quality furniture to charities in need
ScrapCarNetwork.org: we'll collect and recycle your old car and give you a great price
CarDonationNetwork.org: we'll collect and recycle your old car and give the value to charity
OfficeClearanceNetwork.org: we'll empty your office and reuse or recycle your old furniture
Contact us
For more information about any of Recycling Lives' recycling and waste management services, or to learn more about the organisation's Community Dotcom services and charity work, talk to a member of the Recycling Lives team today on 01772 654 321.
Or, find out more about Skip Hire Network – eco-friendly UK skip hire with charity benefits, from an award-winning waste management provider.